By Bronte Ellis, Physiotherapist and Pilates Instructor
Welcome to 2021!
It's hard to believe we're in a New Year after all that went on in 2020, but we are, so let's make the most of it.
Some of you may have realised we have a new Pilates structure/ way of navigating and booking through the app called MINDBODY. This app gives you complete control over your bookings, your classes, your schedule and your payments. Head here for all your membership information and see below for our current group class timetable.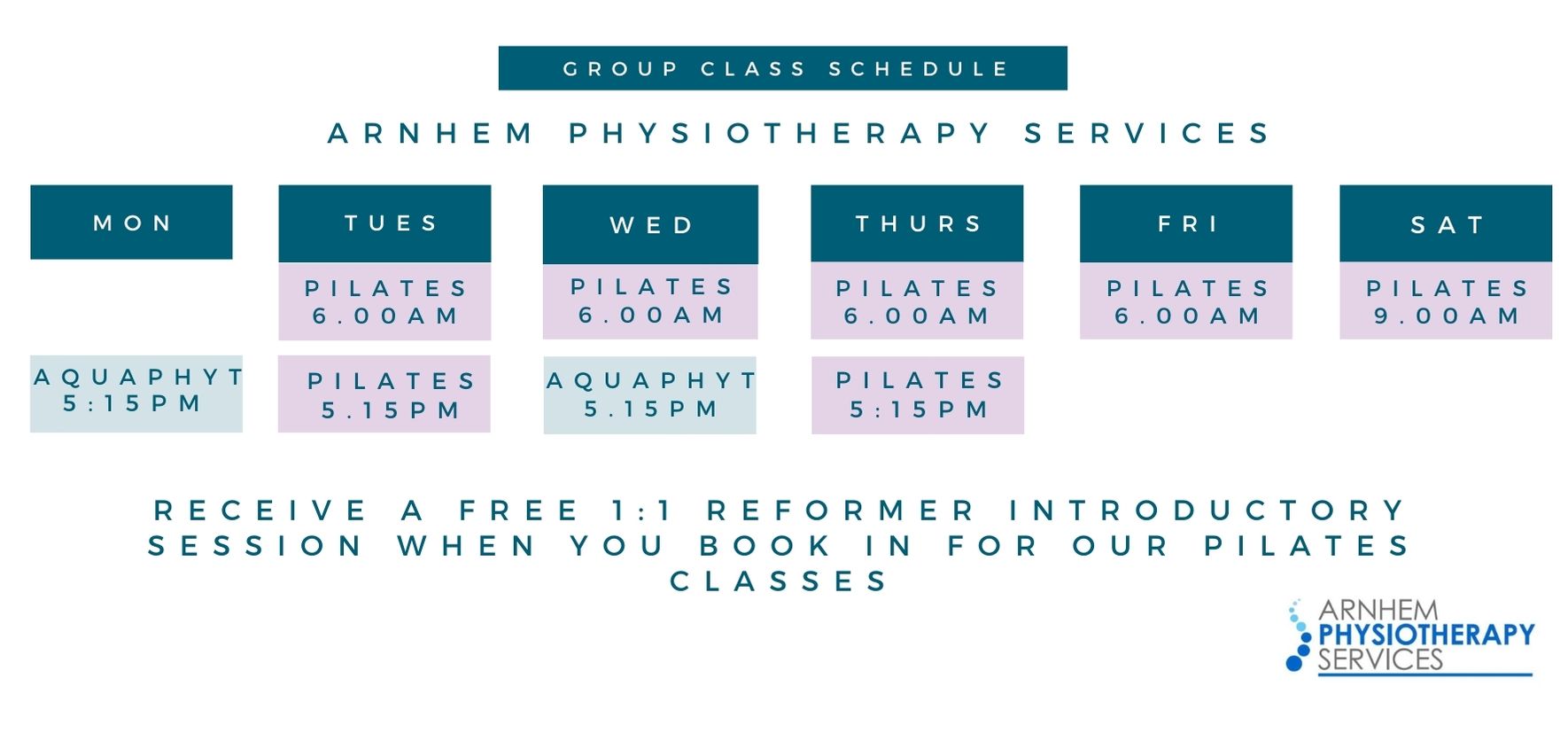 So what is Pilates?
Pilates came about during the 1910's by a man named Joseph Pilates. Joseph was working in a hospital as an orderly during WWI and could see the impact that bed rest and lack of exercise was having on wounded soldiers. He developed a series of exercises involving bed springs and frames to maintain strength, mobility and function in the men who were in hospital recovering from injury.
From here, traditionally Pilates involved a series of around 20 exercises, all with varying levels but all focusing on the same key principles being;
Breath
Concentration
Centering
Control
Precision and
Flow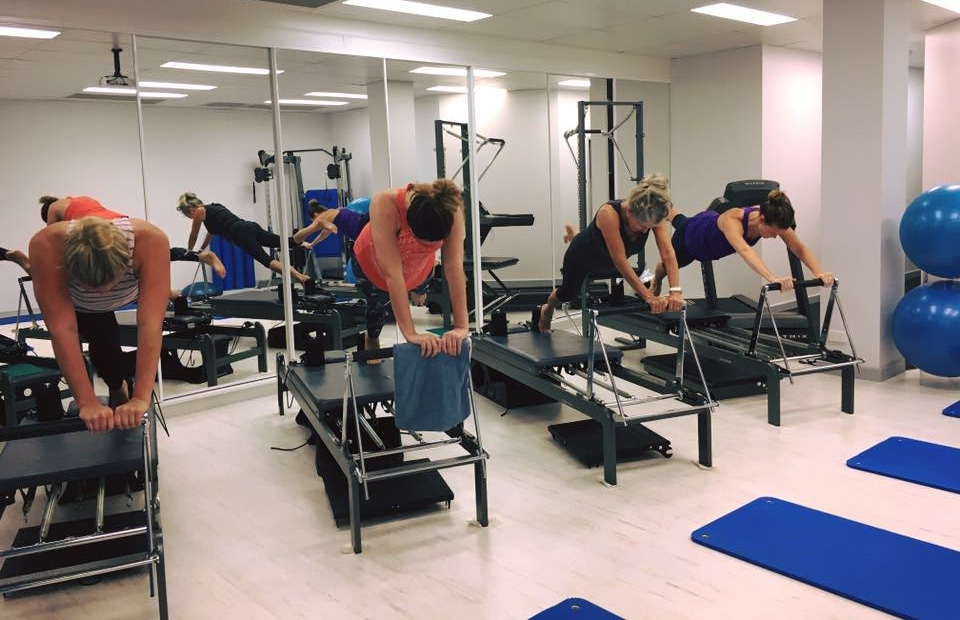 Pilates has continued to be developed by health practitioners around the world, but particularly became popular as a tool for rehab by Physiotherapists.
Here at Arnhem Physio, we work on these same key principles, with a focus on neutral spine, centering, rib positioning, head, neck and shoulder neutral and breath. We apply these principles to a wide range of exercises, with the option to add resistance through weights, therabands, balls and the reformers. Pilates is low impact, but by no means "easy", and we can alter and adjust exercises so you get a great workout and your heart rate elevated.
Pilates can be used as a rehab tool when recovering from injury, but also as a maintenance regular exercise, focusing on small muscles groups, postural muscles and the muscles that often get forgotten about when exercising in a gym or in other cardio type group classes. It's an amazing addition to a weekly routine, and combined with other cardio based exercise such as walking, running, HIIT and bootcamp style exercise you're sure to see and feel the benefits.
I can talk personally, that before I trained in Pilates and started teaching (I don't even attend classes, I just teach!) I had constant, niggling low back pain. Since teaching for the past 4 years I now have NONE. No low back pain, ever. I can sit for hours and hours, run, stand for hours cooking, spend 3 days on the boat and not even a little ache or catch in my low back. I'm not the only one though, I've have people over the years say to me that after 6 months of Pilates they can now sleep on their left side, or they don't get any neck pain and headaches when working at their computer anymore, or that after each class they feel awake, their body feel alive and ready to take on the day. Or even that they feel they're walking just that little bit taller after a class.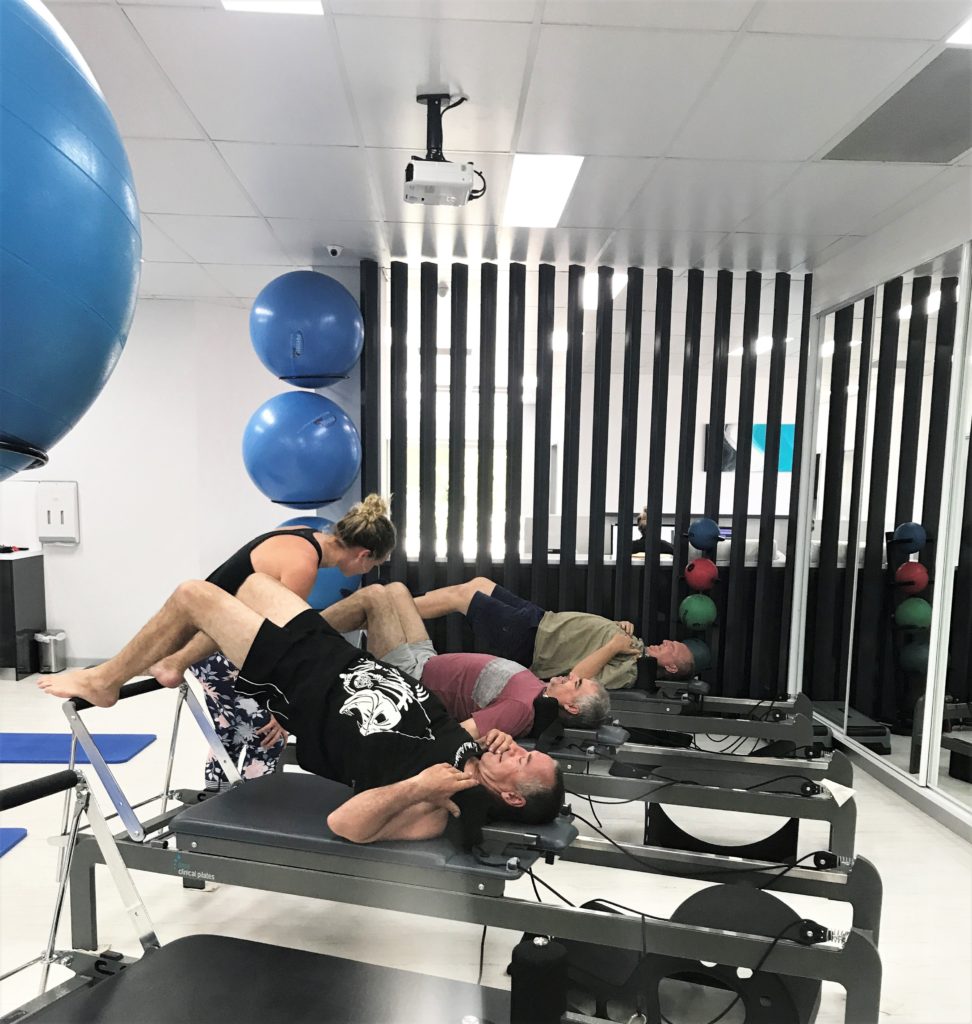 And it's not just for women! Pilates was developed by a male and initially back in 1920's and 30's over 60% of people completing Pilates were men! Pilates is now used regularly in the training routine of elite AFL, NRL and tennis players, dancers, swimmers and your everyday person just wanting to improve their strength, improve their back pain and improve their whole life!
Our classes are run by Pilates trained Physiotherapists. We have a four floor based reformers, four wall based reformers, mats, weights, therabands, balls, magic circles and more. A maximum of 8 people can attend a class at a time, meaning you're ensured to get the correct modifications, prompting and facilitation you need. Adhering to COVID restrictions we have cleaning stations at each reformer, hand sanitiser, anti-bacterial wipes and individual storage for you belongings for the duration of the class. We just ask that you bring a towel, and purchase some non-slip Pilates socks.
So what are you waiting for, call us now for your complimentary 1:1 introductory Pilates session and download MINDBODY now.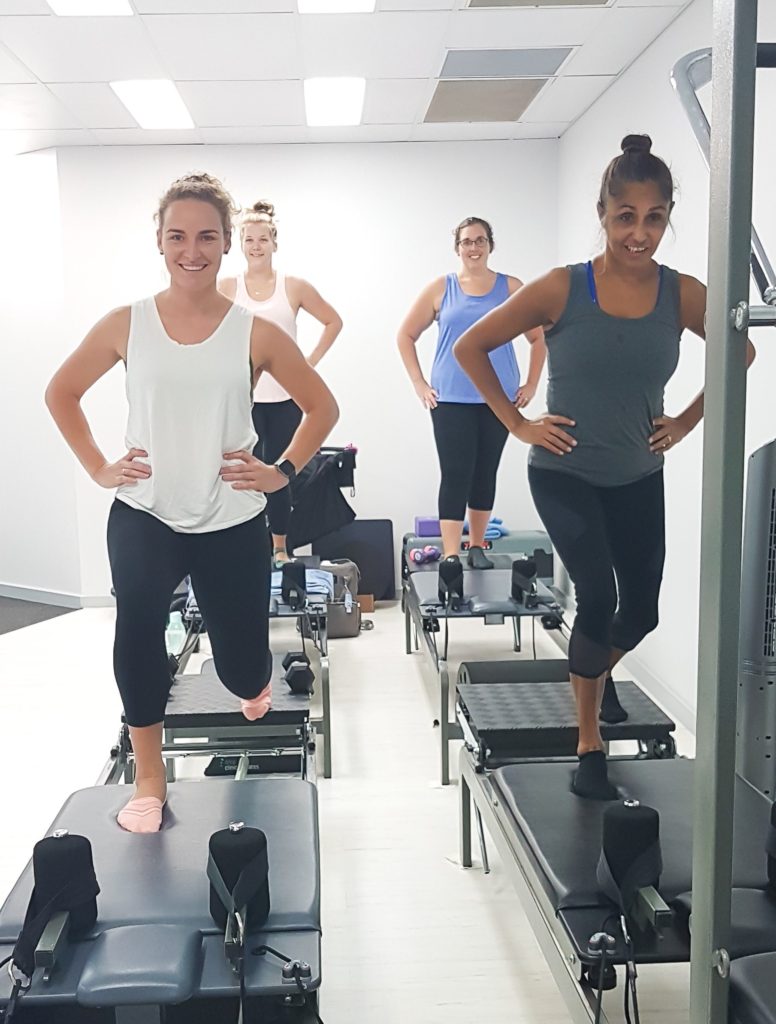 References:
https://www.pilatesfoundation.com/pilates/the-history-of-pilates/