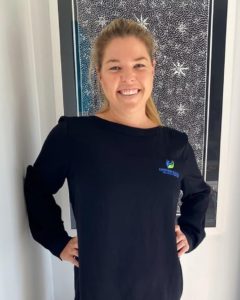 SARAH FINCHAM-THOMSON
Director Arnhem Allied Health Centre
MPhty (Master Physiotherapy)
BSc Exercise Physiology
Born and raised in Nhulunbuy, Sarah completed all of her schooling here finishing high school before jetting off to Europe for a year abroad volunteering in a nursing home. It was here she solidified her love and passion for helping people in need, and decided to pursue a career in health. Sarah started her studies completing a Bachelor Degree in Exercise Science – giving her the knowledge of using exercise as medicine and understanding how to adjust dosage of exercise for a range of conditions such as Diabetes, High Blood Pressure and Osteoporosis. She then went on to study a Master's of Physiotherapy and worked at Logan hospital before returning back to her roots 10years later, with a clear vision of improving the health and accessibility to health care for the people of Nhulunbuy and East Arnhem Land.
Sarah strives to empower the community that exercise is the best, cheapest and most accessible medicine available. Her passion for her community and the people in all of East Arnhem Land is one of her finest qualities. Not only is she a knowledgeable, skillful and calming physio, she is an advocate for improving the healthcare system in Nhulunbuy and the region, and has been the driving force behind the development of the Arnhem Allied Health Centre you see today. Behind the scenes she is constantly advocating for all of you, creating opportunities for health care services to give our community what it deserves, to make your lives here in Nhulunbuy just that little bit easier.
The love that Sarah has for Arnhem Land is a deep love, it's more than just a town she lives in, it's her home and the only place she wants to live and grow old with her family. Sarah is a physiotherapist, a manager, a director, a business woman, a mother, a partner, but most importantly she is someone who whole heartedly wants the best for the people in her community.
Sarah is well-recognised as a respected primary health care provider throughout the region and has achieved a reputation for delivering an exceptional clinical service experience. These days you'll mainly find her ensuring the clinic is running smoothly and dealing with all things management, but on occasions she loves to get back to her passion of being a treating Physiotherapist.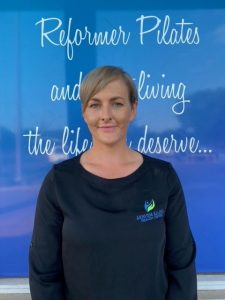 CLAIRE KELLY
Allied Health Operations Manager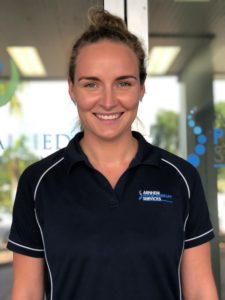 BRONTE ELLIS
Senior Physiotherapist and Clinical Lead Arnhem Physiotherapy Services
BSc Physiotherapy
Bronte graduated from Curtin University in Perth in 2014, and has has spent the majority of her time since then working in Private Practice. Originally hailing from Albany on the South Coast WA, she has now called Nhulunbuy home for the past 4 years.
Bronte has upskilled in multiple areas of physio, including being APPI Pilates trained and certified,  APA Sport's Level 1, APA Paediatrics Level 1, Dry Needling, completed WHTA Women's Health Course, WHTA Advanced Prolapse, Stress Urinary Incontinence and Pessary fitting trained and is currently studying her Master's of Clinical Physiotherapy in Continence and Women's Health. She is also able to fabricate customised thermoplastic splints, and has completed additional hand therapy training with Territory Hands in Darwin.
Bronte's main passion in Physiotherapy is Women's Health, particularly ante- and post-natal women. This is an area that can have such a large impact on a woman's life and so many people don't know how well many issues can be managed and treated effectively with Physio. She believes it's such a rewarding part of the job being able to assist women back to activity and living their life without discomfort or issues associated with continence and prolapse.
Bronte teaches Group Pilates, AquaFit and is available for appointments Monday- Saturday.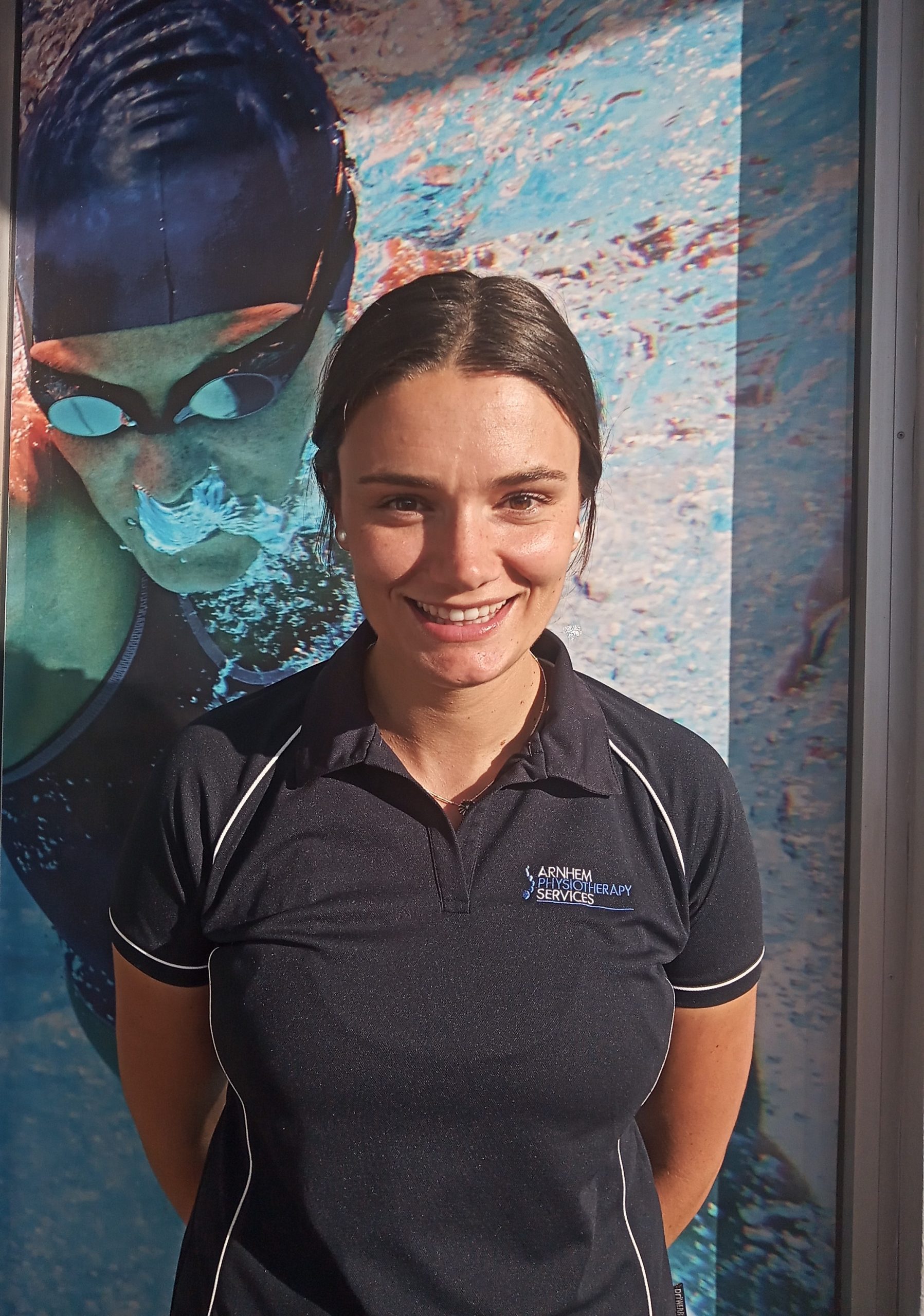 TAYLA LEWIS
Physiotherapist
Tayla graduated from Curtin University in Perth in 2016 and has loved working in private practice ever since. She loves many aspects of private practice and in addition to her clinical experience has upskilled in a number of areas including APA Sport's Level 1, APA Paediatrics Level 1, Dry Needling and ASCA Strength and Conditioning level 1 coach.
Tayla grew up playing every sort of sport she could in Broome WA before moving to Perth. Playing sport, regular visits to the physio and her desire to help other is what inspired her to become a physio. She loves treating a range of musculoskeletal conditions. She prides herself on looking at the whole picture when working with a patient. She stays up to date with the latest evidence and wants to work together with her patients to make sure they are getting the best out of themselves.
Tayla has experience in sports physiotherapy and has worked with a number of teams including hockey, soccer and AFL, this gave her the opportunity to work the 2019 and 2021 AFL Grand Finals before relocating to Nhulunbuy. Outside of work, she loves getting outdoors and staying active! Taking her dog for a walk, going camping and exploring new places.
Tayla is available for appointments in the clinic Tuesday to Saturday and runs group Pilates classes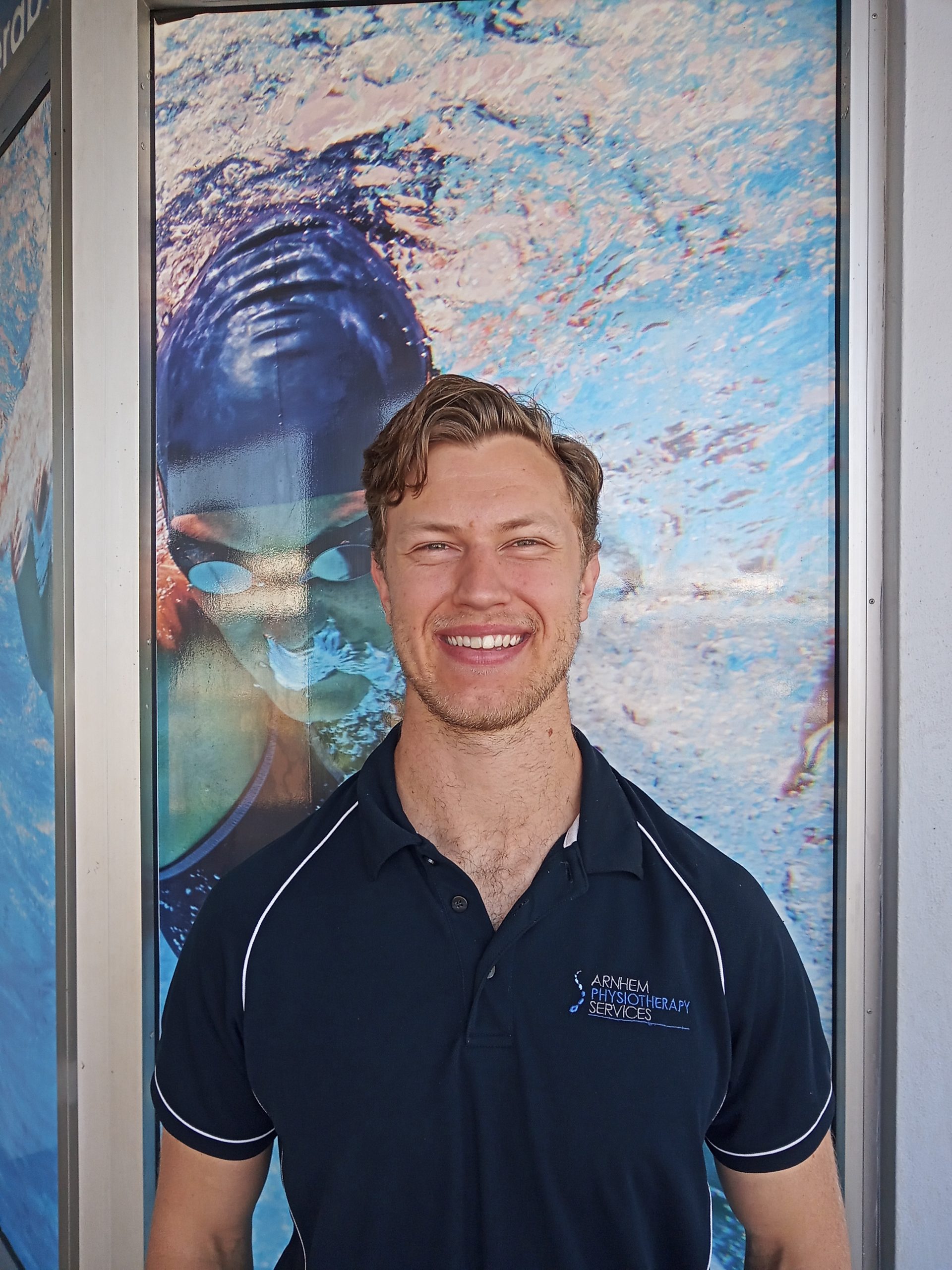 RUAN SWART
Physiotherapist
Originally from South Africa and then Perth, Ruan grew up with a love for the outdoors and fitness. This pushed him to study Sports Science at Curtin University with a focus on performance development.
Throughout his studies, he was able to work with physiotherapists and their clients and saw first-hand the great benefit physiotherapy could play in a person's life. This sparked a passion to help people with injuries and disabilities towards their goals. He then completed his Masters of Physiotherapy from Curtin University in 2020. Since then, he has worked in private practice before relocating to Nhulunbuy.
Ruan's key areas of interest are sports injuries, strength and conditioning, chronic pain, and disabilities. He believes in a solution-focussed approach, striving towards getting you to your goals and full engagement in life. Outside of work, he continues to love the outdoors with camping, fishing, surfing, or playing guitar when at home. He is married to Tarryn, one of our other amazing physiotherapists at Arnhem Physiotherapy.
Ruan is available for appointments from Monday to Friday unless he is out providing services in the community.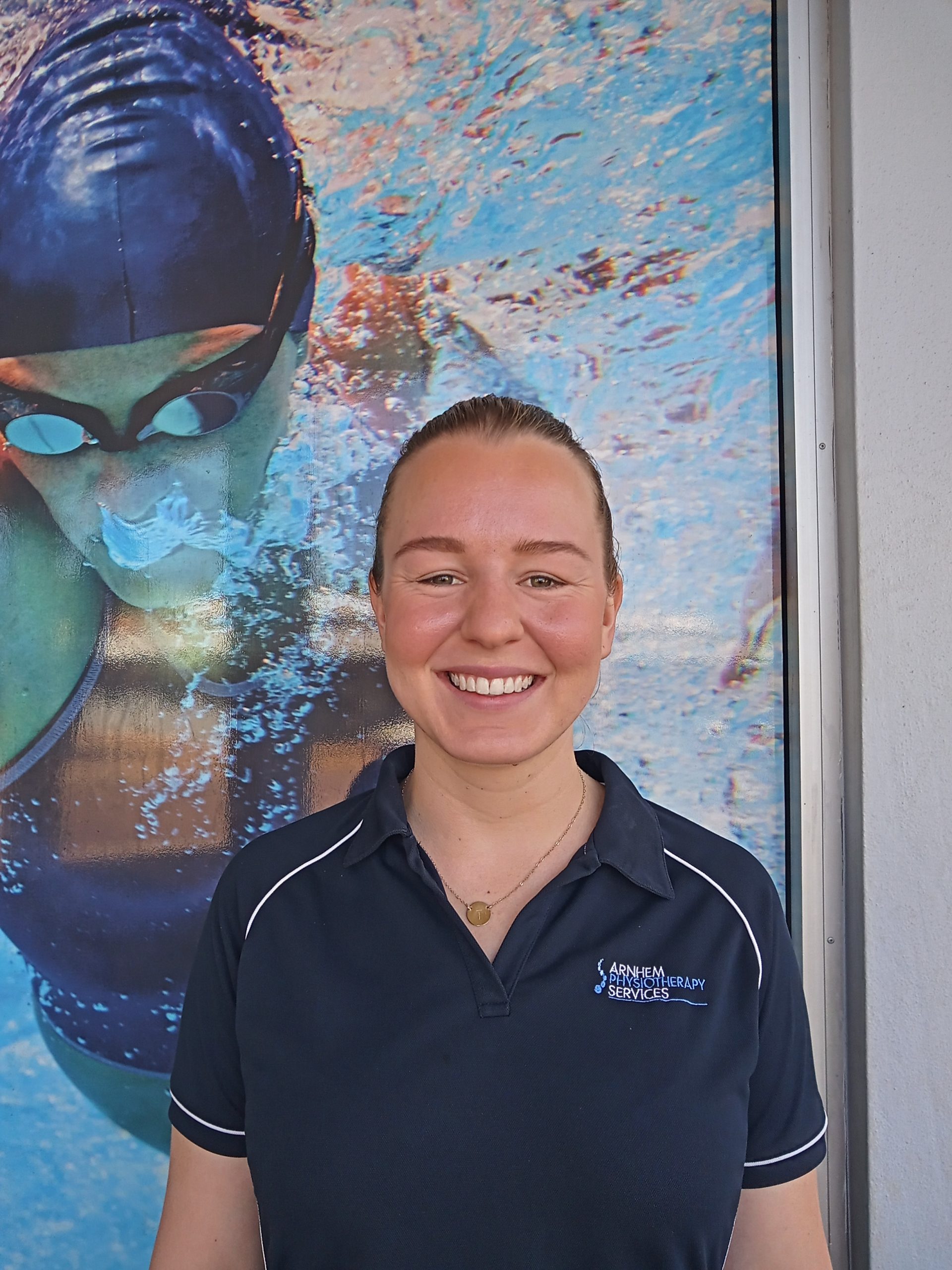 TARRYN SWART
Physiotherapist
Tarryn has recently moved from Perth, WA with her husband. Prior to becoming a Physiotherapist, Tarryn practiced for 3 years as a Pilates Instructor and worked as the Head Sports Trainer for the local football club which has solidified her diagnostic skills in acute musculoskeletal injuries and a developed her passion for active exercise rehabilitation. In Perth, Tarryn practiced and has further training in paediatrics and disability which encompassed neurological, developmental and cardiorespiratory clientele.
Tarryn highly values evidence-based and wholistic health care and cares about you as an integrated person. Outside of work Tarryn loves adventuring with people she loves and making new friends – she can't wait to explore Gove and surrounds and finally catch a barramundi!
Tarryn is available Monday to Friday for appointments and Pilates classes – she can't wait to meet you!

CAITLIN DAVIES
Occupational Therapist
Growing up in the Wheatbelt region of Western Australia, Caitlin moved to Perth and completed her degree in Occupational Therapy at Curtin University in 2017.
Caitlin has experience working in a range of specialties including acquired brain injury, mental health and paediatrics. Caitlin has been working at Arnhem Allied Health Centre since May 2021, after relocating from WA with her partner in the hope to catch some big fish!
Caitlin is enjoying working in communities, servicing remote homelands and learning more about this regions rich indigenous culture. She has a passion for working collaboratively with not only clients but their family, teachers, and NDIS providers to ensure holistic support in a variety of environments including home, school and in the community.
Coming from WA, Caitlin is finding it a little hard to accept she can't swim at the beaches here, but otherwise enjoys all the camping, fishing and activities East Arnhem has to offer.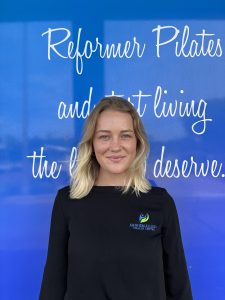 KRISTINA KEY
Occupational Therapist
Kristina holds a Bachelor of Occupational Therapy after graduating from the University of Sydney in 2019. After completing her final university placement in Darwin, the Territory had etched a place in Kristina's heart, and she relocated from Sydney to the Top End a few months later.
Kristina is a young and enthusiastic therapist who is passionate about making disability care more accessible in the beautiful remote communities across the NT. Kristina loves creative problem solving to empower participants to achieve their goals. Kristina has interests in equipment prescription and home modifications to allow people to stay in their homes as long as possible, skill building, carer training and respite/ return to country advocacy to enhance quality of life. Kristina is qualified as a FIM Assessor and holds a Level 2 Postural Care Accreditation Certificate.
Kristina recently relocated to Nhulunbuy after working as a private OT in Darwin for the past two years. In her spare time, Kristina enjoys camping, going for long drives, reading recipe books and cooking for her friends. She is excited to jump right in to all beautiful Arnhem Land has to offer and is already on the hunt for her first statement fishing shirt.

ANNETTE LAWRENCE
Administration Assistant
One of the smiling faces you meet as soon as you enter the clinic. Annette ensures everyone feels welcome and comfortable as soon as you arrive.