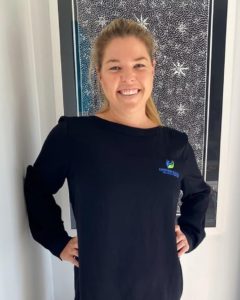 SARAH FINCHAM-THOMSON
Director Arnhem Allied Health Centre
MPhty (Master Physiotherapy)
BSc Exercise Physiology
Born and raised in Nhulunbuy, Sarah completed all of her schooling here finishing high school before jetting off to Europe for a year abroad volunteering in a nursing home. It was here she solidified her love and passion for helping people in need, and decided to pursue a career in health. Sarah started her studies completing a Bachelor Degree in Exercise Science – giving her the knowledge of using exercise as medicine and understanding how to adjust dosage of exercise for a range of conditions such as Diabetes, High Blood Pressure and Osteoporosis. She then went on to study a Master's of Physiotherapy and worked at Logan hospital before returning back to her roots 10years later, with a clear vision of improving the health and accessibility to health care for the people of Nhulunbuy and East Arnhem Land.
Sarah strives to empower the community that exercise is the best, cheapest and most accessible medicine available. Her passion for her community and the people in all of East Arnhem Land is one of her finest qualities. Not only is she a knowledgeable, skillful and calming physio, she is an advocate for improving the healthcare system in Nhulunbuy and the region, and has been the driving force behind the development of the Arnhem Allied Health Centre you see today. Behind the scenes she is constantly advocating for all of you, creating opportunities for health care services to give our community what it deserves, to make your lives here in Nhulunbuy just that little bit easier.
The love that Sarah has for Arnhem Land is a deep love, it's more than just a town she lives in, it's her home and the only place she wants to live and grow old with her family. Sarah is a physiotherapist, a manager, a director, a business woman, a mother, a partner, but most importantly she is someone who whole heartedly wants the best for the people in her community.
Sarah is well-recognised as a respected primary health care provider throughout the region and has achieved a reputation for delivering an exceptional clinical service experience. These days you'll mainly find her ensuring the clinic is running smoothly and dealing with all things management, but on occasions she loves to get back to her passion of being a treating Physiotherapist.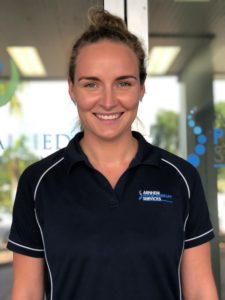 BRONTE ELLIS
Senior Physiotherapist and Clinical Lead Arnhem Physiotherapy Services
BSc Physiotherapy
Bronte graduated from Curtin University in Perth in 2014, and has has spent the majority of her time since then working in Private Practice. Originally hailing from Albany on the South Coast WA, she has now called Nhulunbuy home for the past 4 years.
Bronte has upskilled in multiple areas of physio, including being APPI Pilates trained and certified,  APA Sport's Level 1, APA Paediatrics Level 1, Dry Needling, completed WHTA Women's Health Course, WHTA Advanced Prolapse, Stress Urinary Incontinence and Pessary fitting trained and is currently studying her Master's of Clinical Physiotherapy in Continence and Women's Health. She is also able to fabricate customised thermoplastic splints, and has completed additional hand therapy training with Territory Hands in Darwin.
Bronte's main passion in Physiotherapy is Women's Health, particularly ante- and post-natal women. This is an area that can have such a large impact on a woman's life and so many people don't know how well many issues can be managed and treated effectively with Physio. She believes it's such a rewarding part of the job being able to assist women back to activity and living their life without discomfort or issues associated with continence and prolapse.
Bronte teaches Group Pilates, AquaFit and is available for appointments Monday- Saturday.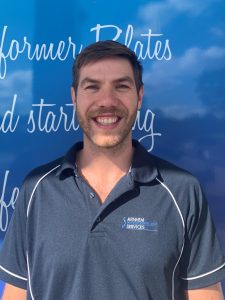 RICHIE PENDLE
Physiotherapist
Graduating from the University of South Australia in 2015, Richie began working predominantly in Private Practice in Naracoorte, and then moved to the Top End, first to Darwin and now has hopped over to Nhulunbuy for the good life; fishing camping and easy living. Richie has experience in sports physiotherapy recently traveling with the Under 18 Men and Women NT Hockey squads at the beginning of 2021 and working with the AFL NT Thunder Academy.
In the clinical setting, Richie understands that the best management programs are those that are designed together, in collaboration with client and therapist. To assist with this he has completed further training in Pilates, Sports Physiotherapy Level 1 and 2, Dry Needling and Sports and Conditioning.
Outside of work, Richie enjoys traveling, fishing (though unsuccessfully), camping, and playing AFL.
Richie joins the Arnhem Physiotherapy Services team as the Outreach Physio, currently visiting Galiwin'ku fortnightly for chronic disease management and to provide physiotherapy to NDIS participants. Richie also visits closer communities regularly to provide Physiotherapy to the people of East Arnhem Land.
Richie is available for appointments in the clinic fortnightly Monday-Friday and runs group Pilates classes.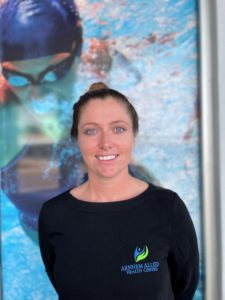 SARAH JOLLOW
Practice Manager
Sarah is the driving force behind Arnhem Physio running smoothly, there is no problem too large or too small that Sarah can't handle. With a wealth of experience in book keeping and financial management Sarah's relentless work behind the scenes keeps all members of staff without a worry.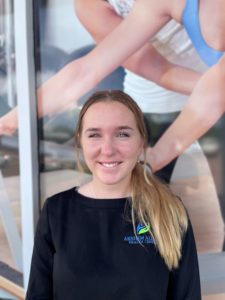 TAHLI STIMPSON
Administration Assistant
One of the smiling faces you meet as soon as you enter the clinic. Tahli ensures everyone feels welcome and comfortable as soon as you arrive.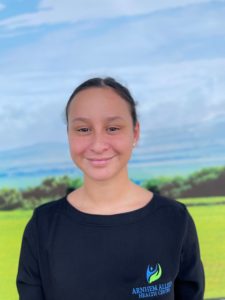 JAMIE HENARE
Administration Assistant
Another smiling face to ensure your experience at Arnhem Physio is one of high standard and quality care. Jamie makes sure everything is organised and ready to go before your appointment.